Terms:. Net 30. FOB Factory NY State. If Prepayment is required, normal production time applies after requested prepayment has been received. (Please contact ­factory to determine specific credit terms.)
Shipping: Common carrier or UPS. Prepaid and added to invoice. NO COD, Third-Party or Collect Shipments. We do not recommend shipping more than 200 lbs. by UPS. Shipping & Handling for UPS, Airborne & Federal Express: Add $6.00 (x) per shipping carton.
LTM: Less than minimum $25.00 (g) (per color).
Drop Shipments: Add $7.50 (g) per destination.
Proposition 65: According to law, all items sold to California must carry a warning label.If any distributor or end customer knowingly or unknowingly sells product distributed into the State of California and does not inform C&C in advance, in writing, prior to production of the order, the distributor or end customer will hold C&C harmless from all liability for alleged Prop 65 violations.
Overrun/Underrun: +/-5% for one color imprint.
+/-10% for multicolored imprint and invoiced.
Purchase Orders: Submit clear and complete purchase orders (Agreement). Missing information will delay your order. Purchase orders are accepted at their face value. We will examine every order closely for errors. Should we overlook any errors and/or discrepancies (including incorrect pricing, item number and/or product description) we are not to be held liable. Erroneously written purchase orders are the sole financial liability of the distributor, no exceptions will be made. "No terms or conditions of purchase orders different from the terms and conditions of Creditor (seller) will become part of any sales agreement, purchase orders or other documents unless specifically approved in writing by Creditor (seller)." Electronic purchase orders are not accepted. Point of sale is Onondaga County, New York and the parties submit all their disputes arising out of or in connection with this Agreement to the exclusive jurisdiction of the Courts of Onondaga County, New York.
Reorder: No screen or set-up charge on re-orders if ordered within 24 months of the last order. This does not apply to Sublimation orders which have a new set-up charge for reorders.
Claims: Claims must be made within 30 days after receipt of shipment. Shipments returned without our written permission will be refused. All claims regarding breakage and delays in transit must be filed with the carrier. We will not be held liable due to the carrier's delays. Deductions from your invoice for breakage are not authorized.
Cancellation: All charges incurred before cancellation will be invoiced. Orders cancelled after shipment of pre-production proof will incur all art and set up charges.
Pre-Production Proof: Special upcharge for halo; add $16.00 (g).
Ceramic & Glassware: PMS colors are established for printing on paper only. PMS numbers are only used as a reference. Due to the nature of ceramic ink, a 100% match cannot be guaranteed. Color matches may vary from previously accepted preproduction samples, speculative samples, color samples or order runs. If desired, selected PMS numbers may be matched as close as possible without incurring a PMS match charge. However, C&C will not accept liability for the closeness of such a match and submitted purchase order must specifically request "PMS match without a charge". (All purple colors are gold bearing colors for which reason a $22.00 (g) charge always applies.)
Color Registration: Where 2 or more colors are close together there is the possibility of misregistration of approx. 1/32" of each color in any direction.
Ceramic, Porcelain and Glassware: All mugs are finished by hand and the color shade and glaze may vary within the same order or from previously accepted random sample, order run, preproduction sample or speculative sample. Slight imperfections, minor indentations (pinholes and/or dark dots), uneveness in the glaze and variations in height and diameter must be accepted and are within the industry standard. Capacities listed for ware, are approximate and may vary from lot to lot or within the same order. Some glassware styles have seams as a result of the manufacturing process.
Durability: All glassware, ceramic and porcelain are Kiln-fired at up to 1200° F, making the imprints long-lasting and safe with reasonable home or office use. Avoid the use of commercial detergents and abrasive cleaners which can damage any imprint, as can dishwasher use. Products are not intended for use in restaurant environments.
Gold or Platinum Imprint: Gold and platinum are precious metals. Add $1.85 (g) per side. Imprint not to exceed 3".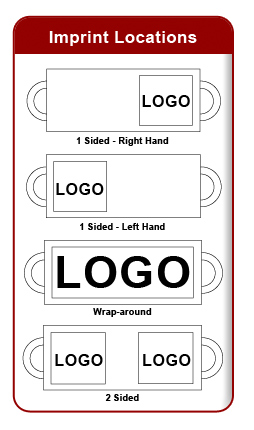 Imprint Locations: Wrap Location Imprint IMPORTANT: Wraparound imprint and two sided imprint is not the same.
MAILERS for 11 oz. coffee mugs: Single mailer, mug inserted .90 (g) ea. Mailer for 2 mugs, inserted $1.10 (g) ea. Mailer for 4 mugs, inserted $1.30 (g) ea. (Available for all 10 & 11 oz. coffee mugs.)
Artwork: C&C accepts black & white camera ready artwork as well as electronic art. C&C reserves the right to determine what constitutes camera ready artwork for the decorating process. Art charges are billed at $40.00/hr (x) and charges up to $20.00 (x) will be billed without prior approval.
Art: Submitted artwork will automatically be resized, enlarged or reduced, to fit imprint area, (using our best judgement). We will process the imprint at factory's sole discretion for the best appearance. No allowances will be made for lack of specific instructions.
Type: Requested typestyles will be matched as closely as possible using our font library. Exact match cannot be guaranteed. If a specific font is requested, it must be provided in screen and printer fonts in PostScript form.
E-Mail: Artwork can be sent to support@mugmart.com. Art files must be sent as an attachment. Artwork may also be submitted using ASICentral. Convert all fonts to outlines or include all screen and printer fonts. E-mails not including ASI number, your company name and order number will not be processed. Attachment can be no larger than 1.0 Mb. Orders will not be processed before we receive a hard copy. If you send compressed files, they must be self extracting. All colors must be set as spot colors. Submitting artwork electronically does not always eliminate art charges.
Files: An editable version of all files including linked and placed images must be submitted along with a full color hard copy. Convert all fonts to outlines or include all screen and printer fonts. Compressed files must be self-extracting, although compression is not recommended. Please send digital files no less than 300 dpi at 100%, higher resolution is recommended.
Software: We work on Macintosh platform only. We accept files in Illustrator, Freehand and CorelDraw.
Media: We accept the following media; 3.5" floppy disk, 100MB Zip disk, 1&2 GB Jaz, CD Rom and 120 MB super disk. A printout of disk contents must accompany disk, as well as hard copy print out.
Scanning: We accept art for scanning within 8.5" x11". Anything larger is subject to an art charge. Submit art at minimum 300 dpi at 100%, higher resolution recommended. Any enlargement may cause blurriness.
Art Charges: Artwork (including clean up and typesetting) will be billed at $40.00/hr (x)
PRICES EFFECTIVE January 2016. Prices subject to change without notice.